Discover how to apply Tribology to research and development successfully
Tribology for Industries
1 day course
This introductory course guides researchers and scientists on how to succssfully use Tribological methods in their work, including key calculations and test methods.
Who should attend?
R&D Scientists, R&D Engineers, R&D Managers, Lab Technicians, Mechanical Technicians, PhD Students, Formulators, Technologists.
Course level:
No prior knowledge of Tribology is assumed, this course starts from the basics. The course quickly moves on to more application focussed tribology. This course may not be suitable for those who are seeking an advanced knowledge of tribology.
Course structure:
We offer the Tribology for Industry course over 4 x 2 hour online seminars
Course cost:
£286 + VAT per delegate
(This includes full access to all sessions, Q&A sessions and a course booklet. The course is limited to 12 attendees)
Upcoming dates:
February 2024:
Session dates and times.
6th Feb 14:00 – 16:00
8th Feb 14:00 – 16:00
13th Feb 14:00 – 16:00
15th Feb 14:00 – 16:00
(all times are UK time)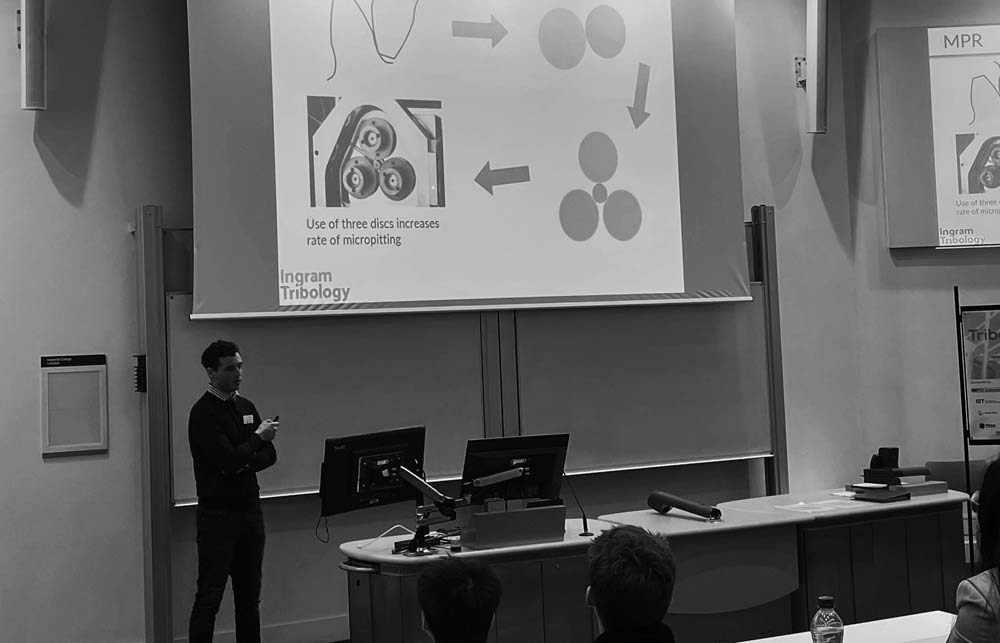 Tribology for Industry course content
In this training course the attendees will get a full understanding of the critical aspects of tribology, including all the important calculations and test methods.
On completion of the training course the attendees will have the knowledge they need to use tribology methods with confidence.
The course will include modules on
Surfaces
Lubricants
Lubrication regimes
Tribofilms
Friction fundamentals
Friction testing
Wear testing
Fatigue testing
Surface/subsurface analysis
Screener test design
Feedback score from last 100 delegates: 4.8/5
Register your place
Book your place on our Tribology for Industry course and discover how to use Tribology to improve your research and product development.
Want to know more? Get in touch with our team
"Really good course, delivered in an easy to follow, clear way. Good practical examples. Came away with a much better understanding of the fundamentals, thanks!"

"Good pacing with 4 x 2hr sessions. Lecture style was engaging and informative. Nice interaction with the class and questions."

"Really good course, delivered in an easy to follow, clear way. Good practical examples. Came away with a much better understanding of the fundamentals, thanks!"

"I found it very helpful that you often related topics back to situations we might have come across in our job. Thanks!"